[SECURE RV KEYLESS ENTRY] —-When you have this RV Keyless Entry Door Lock, Never worry about safety again, secure your valuables as you travel essentials, 100% metal material provide longer durability. Our RV Door Locks fits lock hole opening: 3.75″W x 2.75″T x 1.5″D. Please check the product size before purchasing rv door lock keyless entry. DOES NOT FIT CLASS A OR CLASS C with lock opening size of 5.75″*5.50″. NOT FIT for Cherokee black glass doors.

[INCLUDE INSTALL KITS] —- RV keyless entry door lock is one of the RV accessories you need to have for travel, includes: 1 x camper door lock, 2 x Mechanical Keys, 2 x Key fobs (Hang your key or remote key), 2 x Remote key (Two remote keys can be used at the same time), 1 x use tool (include screwdriver and Reset needle), 2pcs button Battery, 14pcs screws and user manual guide, all installation tools are here, INSTALL IT WITHIN 10-MINUTES! Note: If RV keyless entry door lock does not work (except when the battery is exhausted, you can try to reset it)

[WATERPROOF OPTIMIZATION] —- Upgraded RV keyless entry door lock waterproof function, which it has watertight seal groove, will not easily accumulate water, so as to prevent the rv door lock from rusting, it has a over hole and diversion groove, that can release rain water, you are not worried that the password lock will be invalid in rainy days. (Note: If you want to reset, just long press the "Code Reset button" on the back of the combination lock )

[SHOCKPROOF & DUST PROOF] —- RV door lock keyless entry upgraded shockproof and dust proof function, install shockproof circle, Anti-shock pad and important accessories Insurance screw. No need to worry about dust entering and affecting the use of the rv door lock keyless entry

[ MULTI WAYS UNLOCK METHOD] —- 1. Remote key (come with 2PCS remote keys, could work at the same time), the fobs remote control must be paired first before it can be used; 2. Enter password (initial password: 1234, support reset password); 3.Use mechanical key. Never worry about forgetting your keys or losing them. Note:(ABOUT DETAIL OPERATION: You can search our brand + keywords on the YOUTUBE website)
More Comfortable High Grade RV Life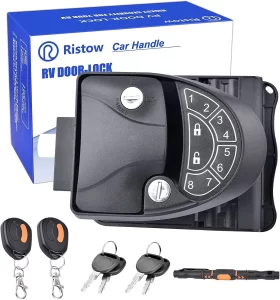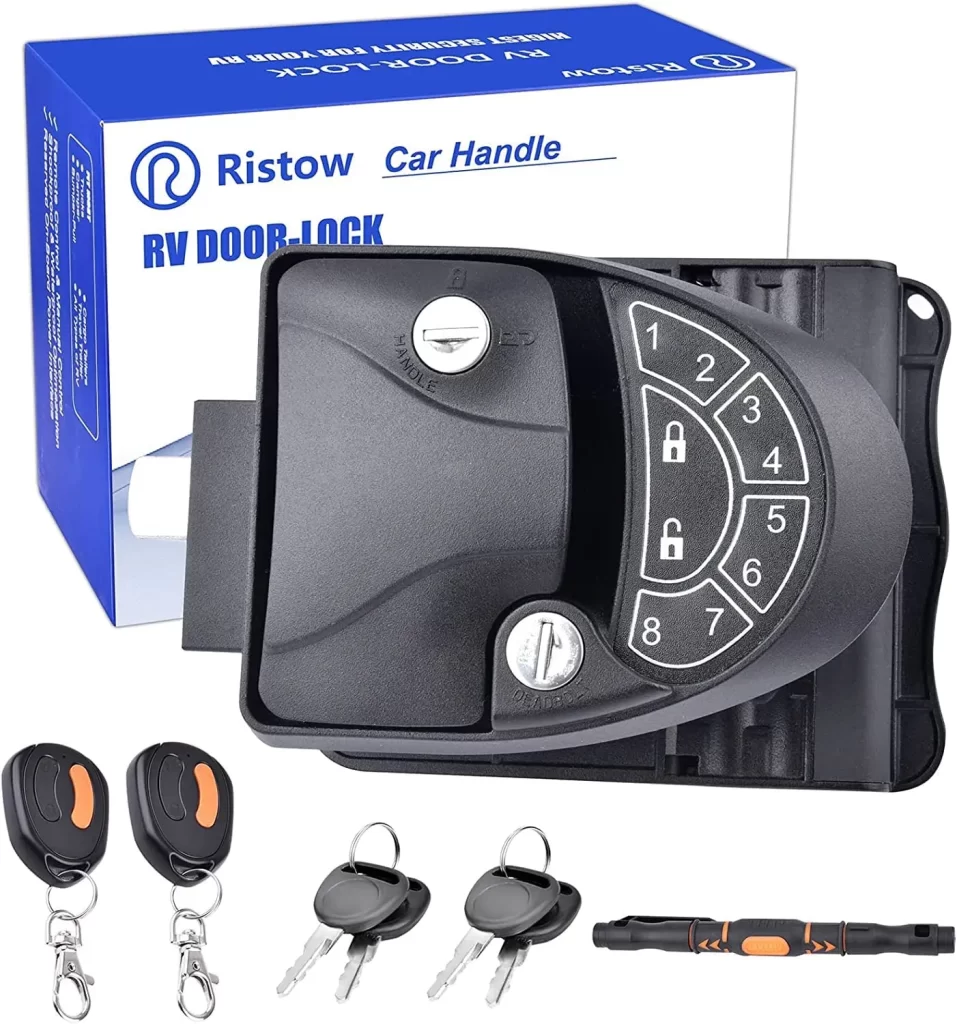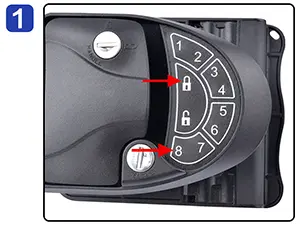 Hold down the number "8"; then long press "Lock" key, both keys are pressed together now, first release the "lock" key, then quickly release the "8"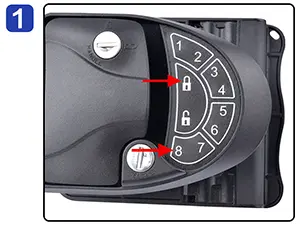 Initial Password + Lock
Enter initial password once, then click "Lock"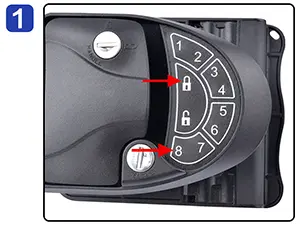 New Password + "Lock" Key
Enter the new password + Lock button (need to be repeated twice )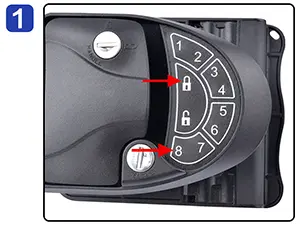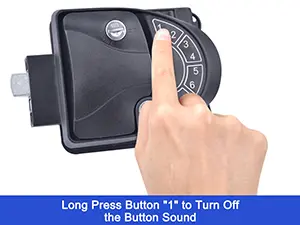 Durable Batteries
Long press the button "1" to turn off the sound of the button, which can prevent noise to neighbors when used at night.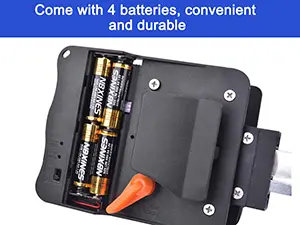 Durable Batteries
Come with 4 batteries, Individually packaged battery with screwdriver, easy to install and remove.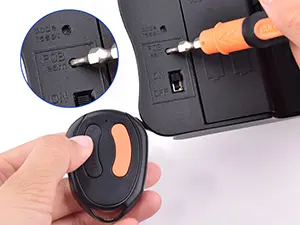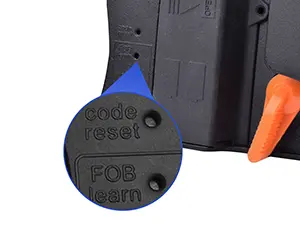 Code Reset
If you forget your password, you can press and hold code reset to reset to the initial password "1 2 3 4".
MUST MEASURE YOUR RV DOOR LOCK OPENING SIZE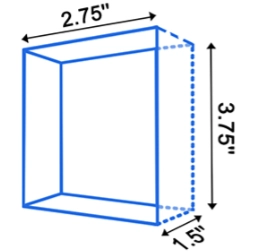 FIT DOORS WITH HINGES ON THE RIGHT SIDE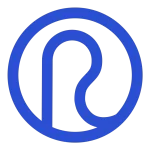 Lock Hole Opening Size: 3.75"T x 2.75"W x 1.5"D
DOES NOT FIT CLASS A or C RVS with lock opening size of 5.75"x5.50"!!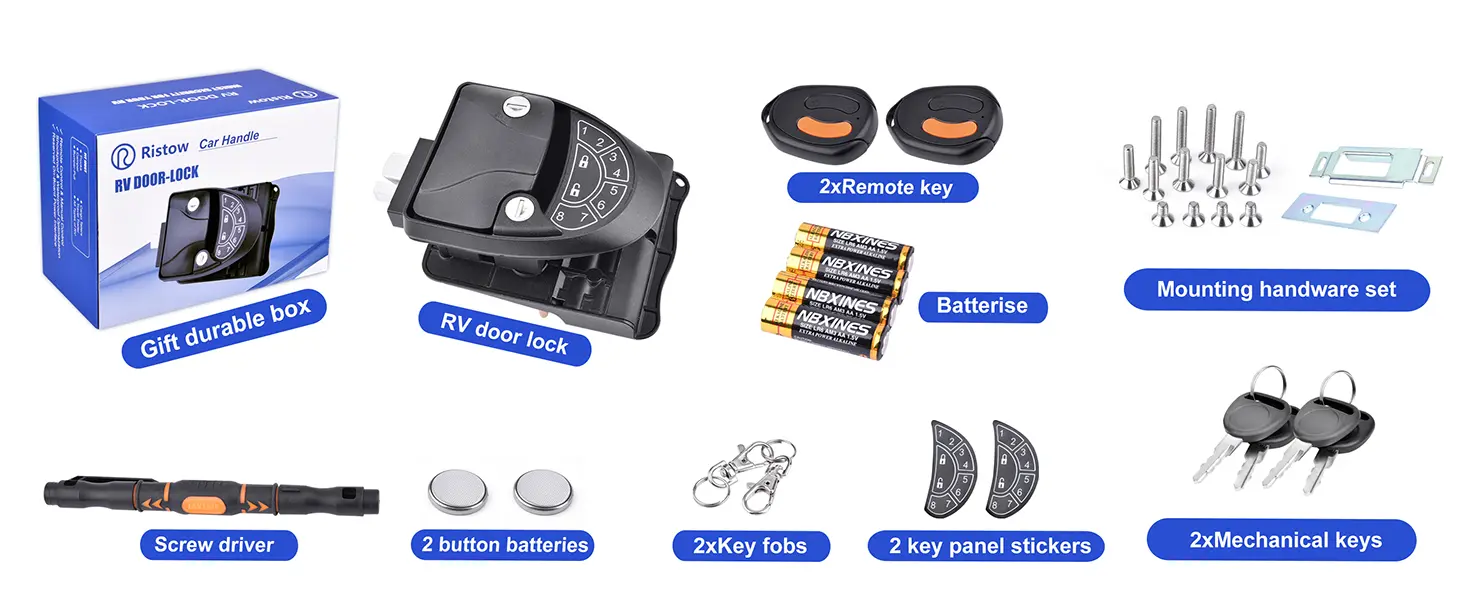 Note: If two fob remote used interchangeably which has stuck problem, it is the combination lock processing signal, which is a normal phenomenon, could repeatedly press the fob control button to operate normally.