Suitable for: Not fit all RVs, fits ONLY trailers and RVs with an opening size of 3.75″x 2.75″x1.5″. So please must measure your RV door opening size before purchase it.

Upgraded RV Keyless Entry Door Lock: RISTOW rv door lock is one of the best RV accessories, it use C-level anti-theft and anti pry lock cylinder, which is the safest lock cylinder level, sturdy and durable, no matter how strong the force is, without a key, you cannot forcibly open this door lock. This lock provides maximum protection against intruders and ensures that your valuable possessions and personal belongings are kept safe and secure.

Anti peeping virtual password input: You can enter any number before or after the correct password. For example, if your correct password is 123456, you can enter 4578 123456 96, and you can also open the door. Compared to a fixed password, a virtual password has a higher security level, and you no longer need to worry about leaking the password in front of others, greatly increasing the security of the password.

IP68 Waterproof: With its waterproof design, this rv door lock is an excellent investment for anyone who frequently goes on camping or road trips. You no longer have to worry about your lock getting damaged or compromised by rain and other wet conditions.

Program upgrade: This state-of-the-art lock is designed to provide maximum safety while offering ultimate convenience for RV owners. With its program upgrade feature, Our RV Door Lock works using a unique password system, allowing for easy operation and customizable security. With up to 50 sets of passwords that can be set, this lock provides flexibility for households of all shapes and sizes.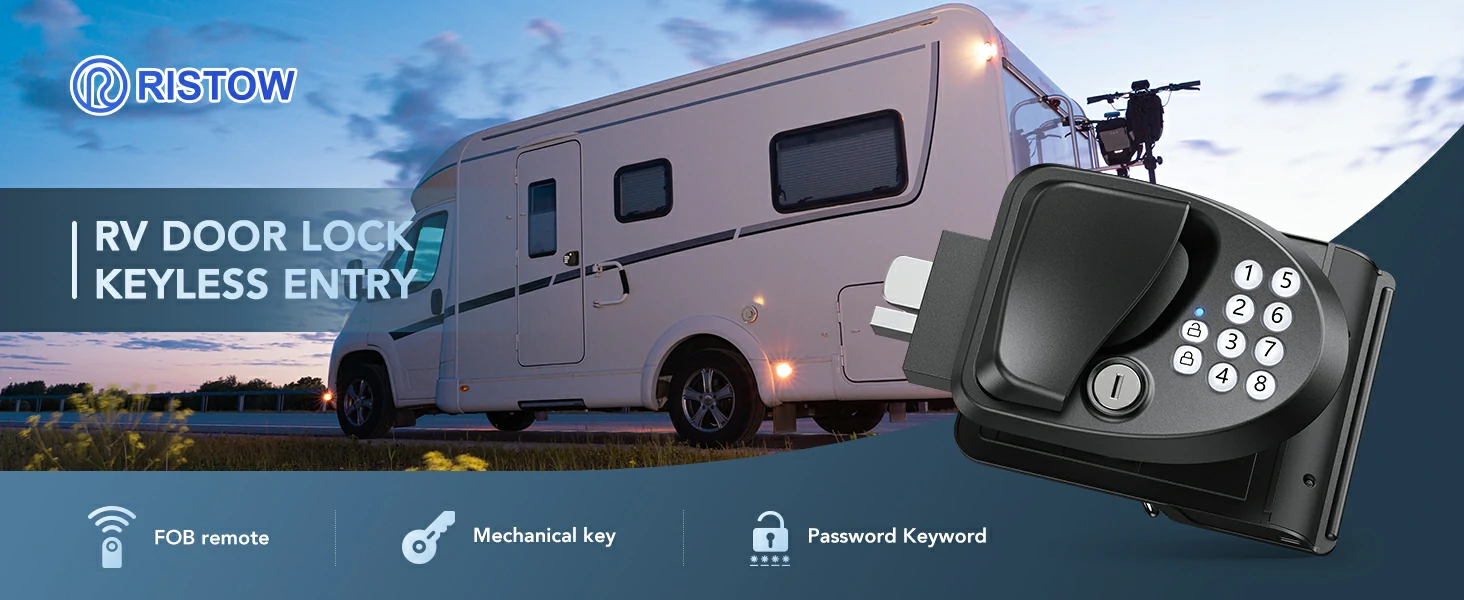 This heavy-duty lock can provide you with reliable security for your RV
                    C-level lock cylinder, upgraded anti-theft function, enjoy a safe journey.
                                   Just fit lock openning size: 3.75"T x 2.75"W x 1.5"D
                           Remote control, more convenient for your children to operate
Acrylic polymer buttons
Durable, dirt resistant, waterproof, with a soft texture and comfortable touch. They can be pressed more than 100000 times.
Simpler installation
Improve the installation position of Dry cell with customer experience, more convenient to install.
A completely different key
More secure and difficult to crack, let you have a safe and comfortable RV trip.
Anti peeping virtual password
No longer need to worry about leaking the password in front of others, greatly increasing the security of the password.
                                       Fashionable design, perfectly matches your RV