V3.0 KEYLESS RV DOOR LOCK NEW UPGRADED PROGRAM AND CHIP !!

Especially giving you keypad + 2fobs + keyed options.

【QUICK INSTALL】—- Our camper keyless entry door lock only takes 5-10 minutes to install.come with detailed instructions and with the mounting hardware, this a stress free rv and trailer accessories option you can set up yourself.

【2 REMOTE KEY FOBS USE TOGETHER】—– Bring you more easier RV life! Our rv keyless entry door lock can connect two remote controls at the same time, no more carrying keys around and the kids can use it very easy too. Having the remote to open the door when it's raining. Definitely worth the money!

【UPGRADED RV KEYLESS ENTRY】—– If you're looking for a way to secure your valuables during the travel with your family. This 2022 premium rv keyless entry door lock is just you need, it is one of the RV accessories you need to have for a vacation. No more arguments of "where are the keys?" Easy to lock/unlock at the campgrounds and feel at ease knowing your items are safe inside, come with 3 locking solutions.

【Will NOT FIT ALL RVs】—– MUST Measure Lock Hole Opening Size before purchase!! Fits ONLY trailers and RVs with an opening size of (3.75″x 2.75″x1.5″) and fit doors with hinges on the right side. Please check the product size before purchasing. Our rv keyless entry door lock DOES NOT FIT CLASS A OR CLASS C with lock opening size of 5.75'' x 5.50''!

【UNIQUE BACKLIT KEYPAD】—- Different from other rv door locks, we upgraded keypad color and light, come with 2 spare panels, it is convenience for you to entry your rv at night.
【HIGH SECURE DESIGN RV DOOR LOCKS】—- Our New keyless rv door lock is different from most RV door lock. We provide more convenience and safe use experience for your RV life, Upgraded the chip and internal program, just design one lock cylinder, that means two key can control 1 locks, this was a very easy upgrade for your travel trailer, One of the best RV travel accessories. —- Energy saving, simple and safer.

PLEASE NOTE: OUR RV Keyless Entry Door Lock does not fit CLASS A OR CLASS C with lock opening size of 5.75'' x 5.50'', fit for classA and class C RV (Our Package has written that it is not fit to Class A and class C. Please ignore this information, Wrote wrong this part of information due to the negligence of the operation )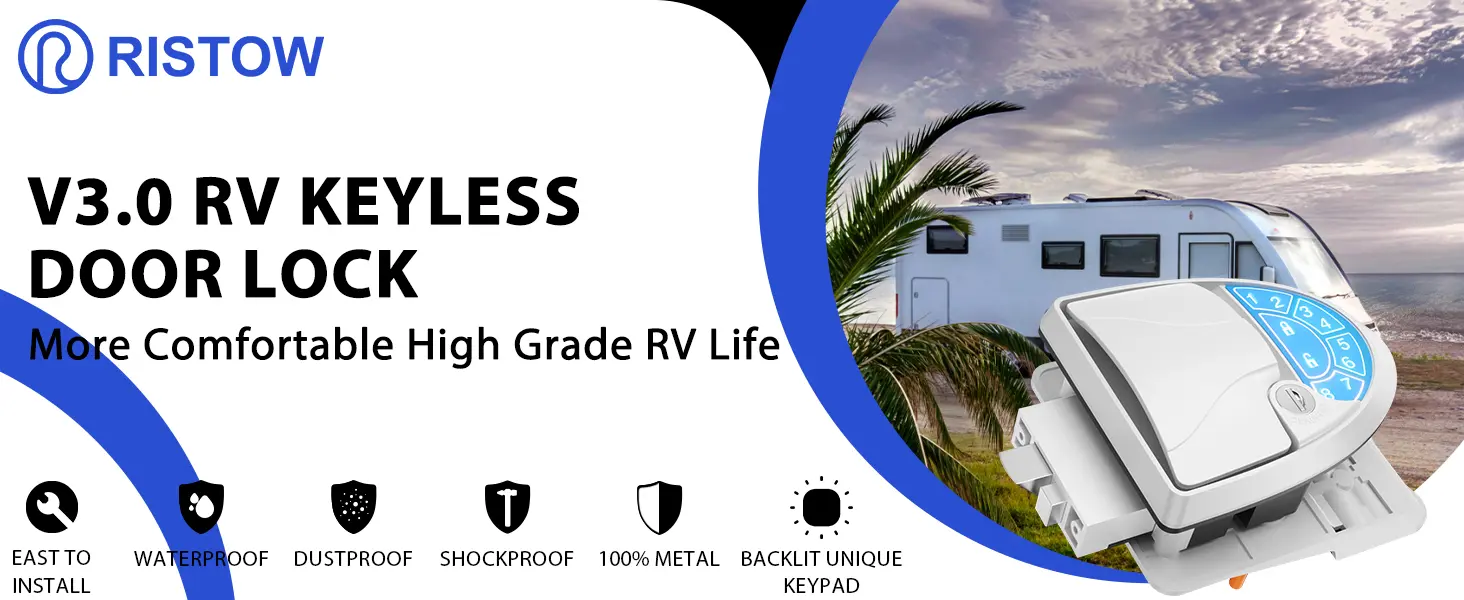 HOW TO RESET YOUR PASSWORD?
1."8″ key + "Lock" key: Hold down the
number "8" key long press first, then long
press "Lock" key, both keys together now,
first release the "lock" key, then quickly
release the "8" key, when you hear Beep
sound and the numeric keyboard starts to
flash, which means the operation is
successful.
2. Enter the factory password "1 2 3 4" +
Lock button.
3. Enter the new password + Lock button
within 2 seconds.
4. Enter the new password + Lock button
again, you will hear 2 beep sound, the
new password is successfully set.
PLEASE CHECK OPENING SIZE
Before Purchasing!!
FOR DOORS WITH HINGES
ON THE RIGHT SIDE
LOCK HOLE OPENING MUST BE
2.75″ Wide x 3.75″ Tallx 1.50″ Deep
COMMON OEM HANDLE SIZE
3.5″WIDE X 4.25″TALL
DOES NOT FIT CLASS A OR CLASS C RVs With opening of 5.75″x 5.55″