[RV STEP COVERS SIZE] Overall size: Long 22″x Wide 20″, Fit 8-11″ Wide camper step cover. The package contains 3 pack RV step rugs and 12pcs spring hooks. , each step covers have 4 sets of pairing springs and grommets for three different step depths (NOTE: These step covers are available for both straight and round steps, please choose the correct step cover size according to the size and shape of your steps)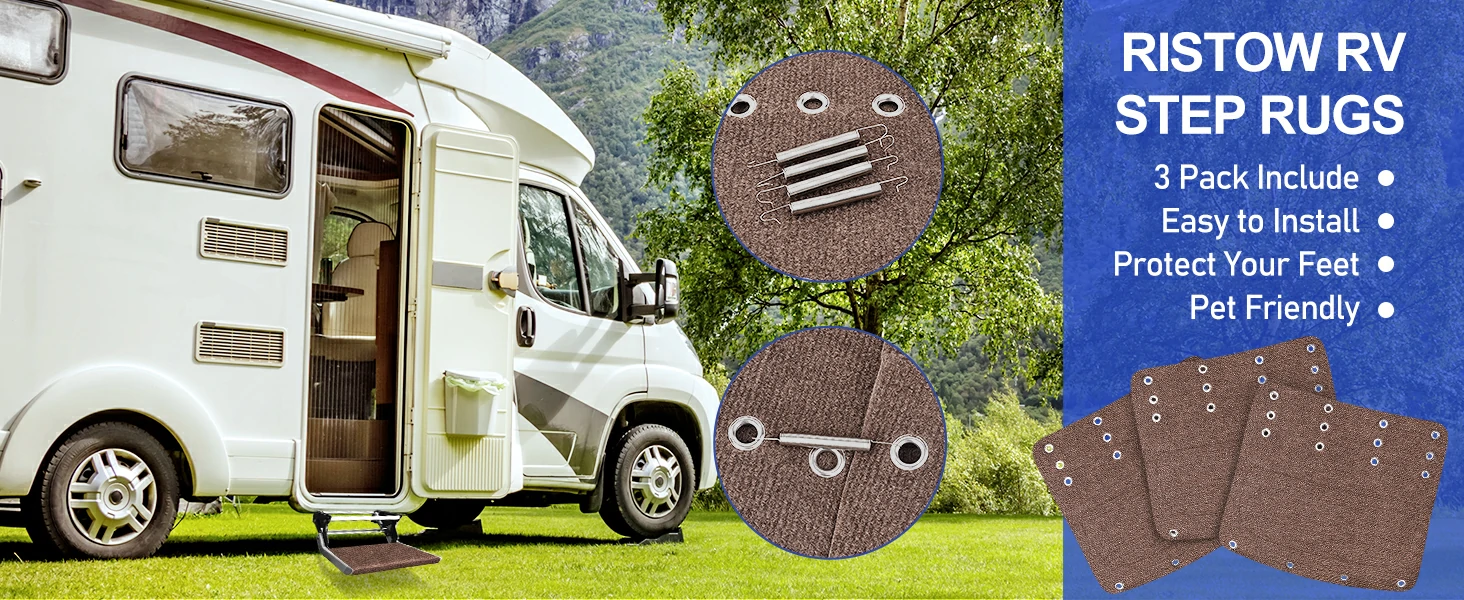 RISTOW RV step covers are made of 100% polyester, double layer protection, it has ribbed texture on the step covers surface, which could capture the soil and dirt in the footsteps, so as to keep the RV stairs clean, it greatly saves your time and energy, one of the best RV accessories.
Ribbed texture design to prevent slipping, double-layer backing design makes the rug more durable & comfortable for stepping. With this RV step cover, you no longer have to worry about the burning heat from sunlight, letting your family and pets to walk up the stairs with greater peace of mind.
Long 22″x Wide 20″
Fit: 8-11″ RV step
Color: Brown
Material: 100% polyester
Quantity: 3Pcs RV step rugs
Accessories : 12pcs spring hooks
100% double layer Polyester
100% Polyester , soft and durable, bendable and easy to remove for cleaning and maintenance.
Effortless Installation
It can be easily install, taken off and cleaned up, rug wraps around your RV step, and the springs hook into the grommets that fit the step.
Function
Protect your family and your pets' feet from scorching hot matal and jagged edges on your manual or electric stair entrance.
                                One of the essential accessories for RV