[CONVENIENT AND WIRELESS DESIGN]: The magnetic camera wireless backup camera is a versatile, portable, and wireless device that makes installation a breeze. Its built-in 9000mAh battery and magnetic base allow for easy magnetic mounting to metal surfaces in seconds. Use it as a wireless backup camera for your truck, a wireless trailer camera, or a reverse hitch guide camera. The Magnetic Camera is a reliable and flexible solution for anyone in need of a backup camera.
[SOLAR CHARGING PANEL]: The wifi backup camera is equipped with a solar charging panel that allows it to work continuously for 18 hours when exposed to full sunlight. This provides extended battery life, ensuring that the camera is always ready to use.
[WATERPROOF AND NIGHT VISION]: The magnetic camera Wireless backup camera is IP68 waterproof, making it suitable for use in various weather conditions. The night vision feature allows you to see clearly even in low-light conditions.
[LONG CONTINUOUS OPERATING TIME]: The wireless backup camera for rv can work continuously for more than 13 hours in night mode and 18 hours in the daytime. This makes it an ideal choice for long trips or extended outdoor use.
[APPLICABLE]: The magnetic camera is suitable for vehicles under 30ft. The S01 model is primarily designed for shorter vehicles and serves as an excellent solution for temporarily observing the decoupling and trailer connections. If your vehicle is larger or longer than 30ft, please choose SW5-1(ASIN: B0BV16ZNBR). Note: The camera of the S01 is not universal with SW5-1.o.
           Battery and Solar Powered True Wireless Vehicle Backup Camera for Truck/Trailer.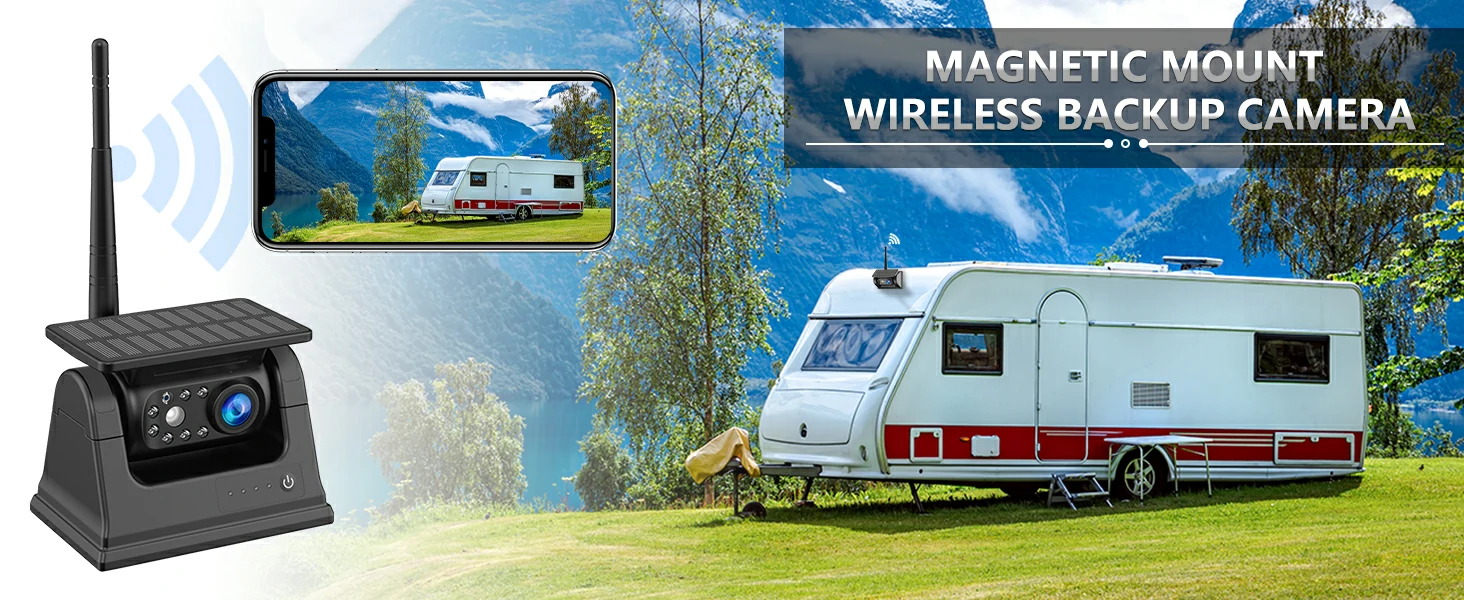 Strong magnet at the bottom, easy and solid installation.
No wiring is required and the magnetic base can be attached to any ferrous metal surface. Built-in high-capacity batteries and solar panels allow this backup camera to work continuously for 12-24 hours.