【CONVENIENT and EASY INSTALLATION】 With a magnetic base and built-in battery, this wireless magnetic backup camera can be installed in just 3 minutes and attached to any ferrous metal surface, eliminating the need for wiring and saving $200 on installation costs. The magnetic camera design also makes it convenient to remove and re-install the camera on another vehicle or location.

【RELIABLE SIGNAL】 The 5-inch monitor that comes with this rv backup camera wireless kit provides a stable signal and eliminates any delay in the picture, making it a more reliable option compared to WIFI backup cameras without a matching monitor.

【WATERPOOF&2 Split Screen】 The IP68 waterproof and IR night vision capabilities of this wireless backup camera ensure clear and detailed images even in challenging conditions, making it an ideal choice for a wireless trailer camera. The monitor supports the addition of a second camera, you can search for ASIN: B0BS6BWXZV

【LONG WORKING TIME】 This rv backup camera wireless system's can operate for up to 18 hours continuously and comes with a solar charging panel that allows it to operate continuously for longer if fully exposed to sunlight. This feature is especially useful for those who need a wireless backup camera for trucks or other large vehicles that need to work for longer periods of time.

【REVERSE HITCH GUIDE CAMERA】 The wireless backup camera for rv also comes with a reverse hitch guide camera feature, which provides a clear and accurate view of the area behind the vehicle, making it easier to park or hitch up a trailer.

【PORTABLE DESIGN】 With its built-in battery and compact size, this magnetic camera wireless backup camera system is easy to carry and can be used anywhere you need it. The magnetic camera base also allows for quick and easy installation and removal, making it a versatile and convenient option.
               Integrated Magnetic Base and Built-in Battery, Truly Wireless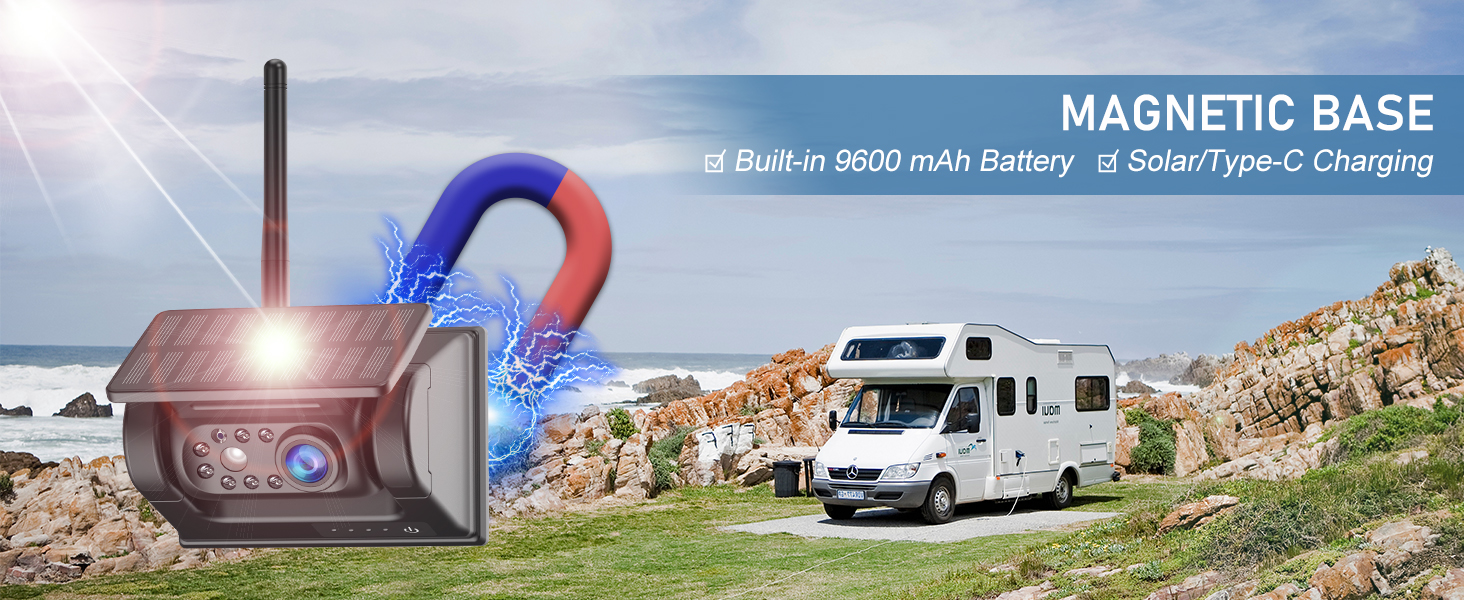 Backup Camera and Solar Panel All in one, Extended Use Time
Solar panels can extend camera runtime, but you can't rely solely on solar power. When the camera runs out of battery, use a charger to recharge it. Save energy by turning off the camera when not in use.