Easy Installation: Install in minutes with just a screwdriver, suitable for both men and women.
One-Time Code: Set a one-time PIN code for door opening that is automatically deleted after use, ensuring maximum security.
Convenient Keyless Entry: Provide access to up to 20 family members with unique access codes & fingerprints, and create temporary codes for guests to use.
Secure Fingerprint Unlock: Unlock your door in just 1 second with our biometric fingerprint identification technology that recognizes your fingerprint in only 0.3 seconds.
Smart Locking Features: Set the automatic door lock to lock in 10-99 seconds, and use the one-touch auto-lock feature by pressing and holding any key on the keypad for 2 seconds.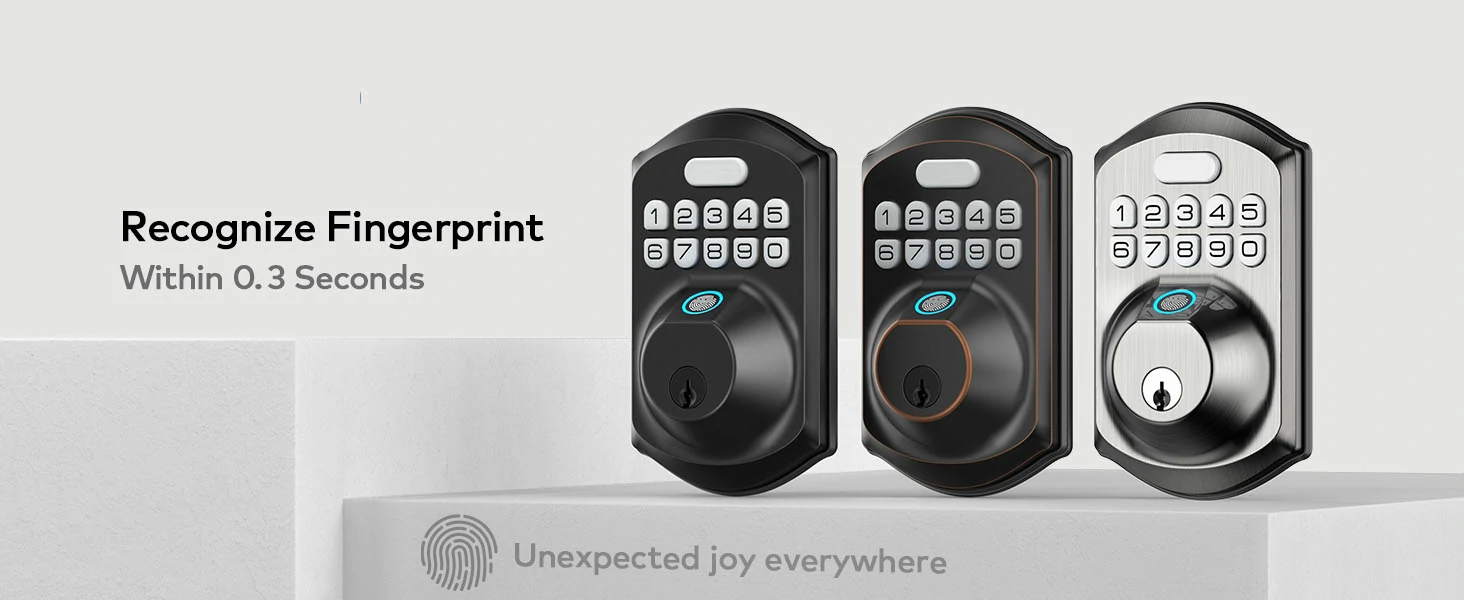 Suitable for families and apartments
Up to 20 fingerprints & codes
Up to 20 different fingerprints & codes allow different family members to customize their own unlock method
Protect your privacy
One-Time Code
One-Time Code: A one-time door opening password can be set, and the password will be automatically deleted after use.
Smart Life
One-touch & auto-lock
Long press any key for 1.5 seconds to close the lock, which has the security of deadbolt and is also very convenient.
Door lock allows you to set the door to lock automatically after 10 to 99 seconds, avoiding situations where you forget to lock the door due to a rush. Especially friendly for the elderly and children.
Strong and Sturdy
Suitable for any environment
This keypad lock is IP54 waterproof and operates well in temperatures from -22 °F to 158 °F, keeping your home safe in all kinds of climates, including cold winters, hot summers or rainy days.
Low battery indicator UP to 6 Months Battery Life
Energy conservation
Strong and durable, low power consumption, four AA batteries can be used for 6 months.
When the battery is lower than 15%, there will be a red light to indicate.