【Efficient RV Storage】: Maximize your RV storage space with our 4-pack RV hose storage bags. Store plumbing and accessories in an organized manner, eliminating clutter and making everything easy to find.

【Convenient Window Design】: Clear windows on each bag provide a quick view of the contents, eliminating the need to search through bags.

【Color-Coded Organization】: Each RV hose storage bag has a design pattern and color to distinguish its use: blue for RV freshwater hoses, orange for RV sewer hoses, yellow for RV electrical cords, and green for RV accessories.

【Generous Storage Size】: Measuring 18×20 inches (10 inches waterproof liner + 10 inches mesh), our RV hose storage bags offer ample room to accommodate up to 100 feet of freshwater hose, sewer hose, and all your cords.

【Waterproof and Breathable】: The waterproof inner layer prevents water damage, while the upper breathable mesh evaporates excess moisture for a dry environment.

【Eco-Friendly and Reusable】: Our RV hose storage bags are made from biodegradable raw materials and recyclable boxes, allowing you to reduce your carbon footprint and reuse them multiple times.

【Lifetime Service】: We stand behind our product's quality and offer lifetime service for any issues you may encounter. Feel free to contact us with any questions or concerns.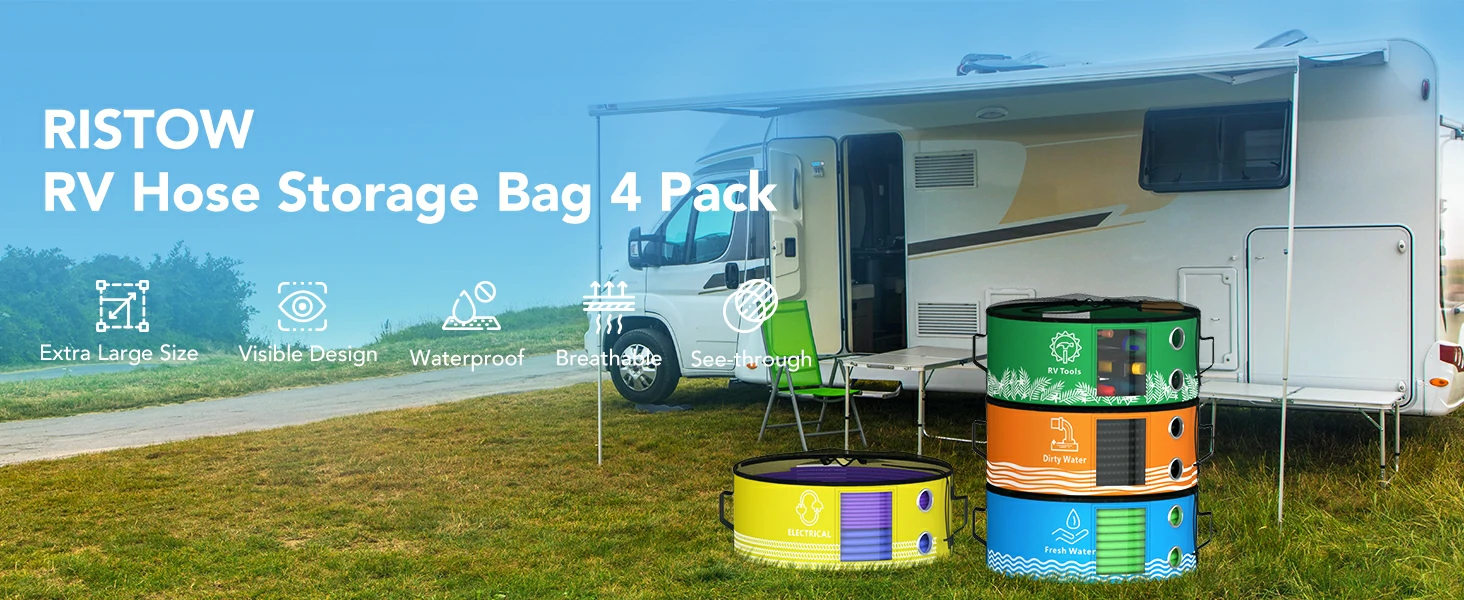 Before
Clutter before using storage bags
After
Clean and tidy after using the storage bags
                            BETTER QUALITY AND MORE ROBUST
                                    RISTOW RV storage bags are tightly wired, more robust and durable, not easy to break
Exclusive Design of Exquisite Patterns
2023 Upgrade RV Hose Storage Bag
RISTOW RV storage bags are available in 4 distinctive colors to distinguish different storage functions. These RV hose storage are made of high quality woven Oxford cloth with PVC coating and waterproof coating for extra strength and durability.
Waterpro of Lined Interior
The inside of this RV sewer hose bag is completely waterproof, so the water left in the water pipe will not leak outside and dirty the caravan.
Adjustable Spring Clip
Each RV storage bag opening out of the drawstring design, you can perfectly close the opening, and with adjustable spring clip can lock the opening.
Visible Design
We designed the transparent window on the storage bag, you can see the contents of the RV storage bag from the outside, without opening the bag.
Exclusive Design
We use bright colors which stimulate dopamine production and the unique graphic designs to keep you in a good mood even when storing RV accessories.